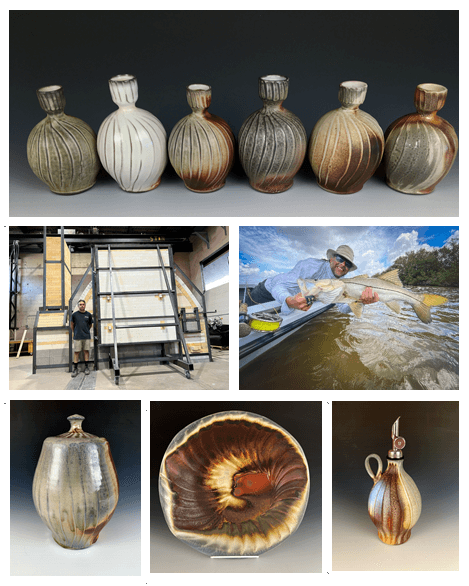 UPDATE: This workshop has been moved to June 3-4.
_______
Workshop Dates:
Hands-on Workshop June 3rd and 4th from 9-4 each day
Kiln-Loading and Firing: June 24th/25th (times TBD)
Kiln-Unloading: July 1st or 2nd (time TBD)
Workshop Fees:
$300 for non-Members
$250 for Guild Members
Workshop Description:
Justin's workshop will focus on wheel throwing porcelain pottery, thick slip movement, and handles. Participants will have the opportunity to work alongside simultaneous demonstrations. Justin will begin with demonstrations on wheel throwing and slip application on various forms. Students are encouraged to spend the afternoon of the first day making forms and applying slip. Day 2 will focus on finishing these pieces with trimming and handle making. Discussions will revolve around soda kiln firing strategies, loading thought processes, clay/slip formulation, and what makes us gravitate to the same pot for use each day.
The second part of the workshop moves to the newly constructed soda kiln that was custom built by Justin in Fall of 2022. This portion of the workshop comprises a firing in the soda kiln and discussion will focus on how to strategically load each piece, explore wadding mixture recipes, and how wadding can be used as a decorative element. Students will be able to participate in the load and have the option to sign up to join a shift with the kiln firing. The group will all gather on March 28th for the kiln opening and conversation about the results.
Participants should have some wheel throwing experience.
---
Biography:
Justin Lambert received his BFA from Florida Atlantic University 1999, and his MFA from Indiana University 2003. Justin has spent the last 23 years firing utilitarian pottery in wood burning kilns. Investigations into reduction cooling variations in the teardrop anagama adds dramatic decoration to the subtle curves in his pots. In addition to making pottery, Justin builds large custom kilns, Omnitemp Pyrometers, and conducts wood firing workshops at home and around the country. Justin is also an accomplished fly fisherman, a licensed USCG captain, and ran fishing charters for many years. He enjoys spending time with his wife Andrea mountain biking, snowboarding, eating delicious vegan meals, and playing with their dogs Rusty, and Daisy.
Artist Statement:
I've spent the majority of my life in and around water enjoying the natural wonders of our world, swimming, surfing, fishing, boating, snorkeling, mountain biking, snowboarding, hiking, star gazing, etc. These activities provide a certain euphoria that subconsciously has influenced my work. I do not try to recreate pottery directly representing these influences, yet the feeling is prevalent in my work. Slip lines represent swell lines, grooming lines, fresh tracks, and snow drifts. Curvaceous forms feel similar to coves, basins, peaks and points. Loading strategies remind me of looking through my telescope, and surface effects resembling earth and water in various stages of tranquility and turmoil.
-----
Cancellation Policy for this Workshop:
Participants can cancel up to 14 days before the workshop starts for a full refund.
Cancellations made less than two weeks from the workshop start time will receive a 50% refund.
Cancellations made less 48 hours from the workshop start time will receive no refund.