Barbara Flocke
Member Since 2014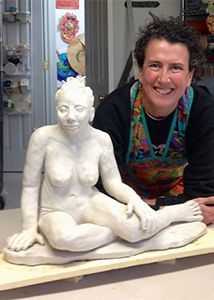 Born by the sea, raised in the desert, living my adult life in Japan and Colorado, I bring my passion for the watery world, the stark desert and different cultures to my artwork. I create my clay pieces with a positive outlook on life and a sense of humor. I started working in clay as a child at the Grand Junction Art Center and then continued to take every class offered in clay and art through high school. Living three years in Japan in a pottery-loving community, I was able to take pottery classes by the sea. I learned about Japanese esthetics while appreciating the clay pieces as I drank from a bowl of matcha green tea.
After returning to Colorado, I continued to take clay classes around the state. I discovered a love for sculpture in 2005 during my first class with Caroline Douglas at the Boulder Potters Guild. Since that time, I have been taking yearly summer workshops at Santa Fe Clay with visiting artists and have developed my skills and sculptural repertoire.
Creating sculptures is energizing. For me, clay is an instrument of celebrating life and love, and of creating images about what is fun in life.
My recent work is hand built with red clay and finished with underglazes and terra sigillata. I also enjoy adding hay bailing wire, beads, wool and bits of nature to complete my pieces.