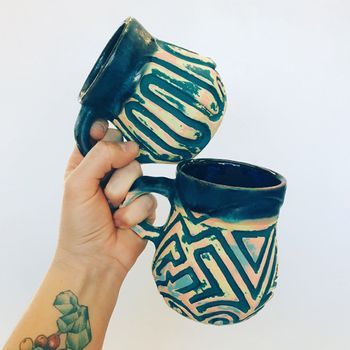 We offer clay classes at all skill levels for Guild members and non-members. 
Sign up for our newsletter to be notified of upcoming classes! 
Classes are offered three times a year, with sessions beginning in January, June and August. Each class session meets for 8 weeks, and access to scheduled Open Lab practice sessions is included with class registration. Classes are taught by Guild members. Instructors rotate to keep content fresh and expose students to a variety of skills and styles.
Class registration opens about 30 days prior to the session start. Payment must be made through online sign-up. Classes fill quickly. A waiting list of up to 3 people will be taken for each class. 
Beginning/intermediate adult classes focus on the fundamentals of wheel-thrown and hand-built pottery. Students learn such skills as centering, throwing, and trimming on the potter's wheel, as well as hand-building techniques. Students also learn to glaze and can be involved in the firing of their pots.
Intermediate/advanced adult classes focus on refining skills, and depending upon the teacher's expertise may focus on a particular type of clay work such as hand building, sculpture, low fire clay, or porcelain. Masters classes are for individuals who are looking to focus on a special area. Master classes offered in the past included porcelain slip casting, sculpture, salt firing, raku, and glaze formulation. 
Classes for intermediate and advanced students may require that specific skills be demonstrated at the first class to participate. 
Only clay purchased during your class can be used.  Absolutely no production work of any kind can be made in class or practice sessions.
We occasionally offer summer children's programs. Check the events calendar for more details. (Children's programs will not be offered in 2022.)
Classes are capped at 14 students and must have at least 6 students. Classes with fewer than 6 registered students will be canceled.
Questions? Email classes@boulderpottersguild.org
*BPG Payment Policy: If a student withdraws after the first class but before the second class a 75% refund will be made. All refunds will be charged a $25 processing fee.
Partial scholarships are available. Contact classes@boulderpottersguild.org

All members and students must be COVID vaccinated to enter the Potters Guild. Masks are optional for all individuals entering the Guild facility.