Barbara McDermid
Member Since 1983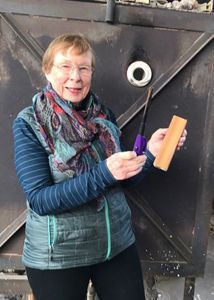 My first clay experience was introduced to me by Betty Woodman at the City of Boulder Pottery Lab in 1972.
After 10 years of classes at the City Lab with a variety of different instructors sharing their expertise and techniques, I had an invitation to join the Boulder Potters' Guild in 1983. I know that the diverse artistry of the students, teachers and workshop presenters then and now have had great influence on the work I enjoy creating today.
While creating I love thinking about the colors I will use whether I am carving, impressing or throwing. My work is often hand built and fired in a mid range electric kiln to cone 6. I continue to enjoy throwing functional tableware as well.
For me, there continues to be a fascination of working in clay and the life long learning in the years ahead.