Dale Rose
Member Since 2000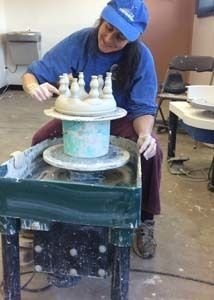 I have a deep passion for creating with clay. My work incorporates Chinese, Japanese, and Italian styles.
My love of pottery began when I was parking cars for the Peter's Valley Crafts Fair in New Jersey and a potter allowed me to throw on her wheel while I was on a break. From there I studied pottery with Professor Ka Kwong Hui at Rutgers University and earned a B.A. in Art at Cook College, New Jersey, in 1985. Later, I attended several workshops that inspired and influenced my work, most notably a week-long anagama workshop taught by master potter Everette Busbee and a majolica pottery workshop taught by Walter Ostrom. In 1990 I moved to Gold Hill, Colorado, where I apprenticed for master potter Makaan Burt, and in 2000 I became a member of the Boulder Potter's Guild.
In addition to making pottery, I enjoy teaching people of all ages who want to learn basic hand-building and wheel-throwing techniques simply because I love creating with clay. I have taught pottery to children in after school programs and led workshops and classes for seniors at residential care facilities and community centers. Clay lends itself to a rich life review process and other therapeutic benefits.
Today I make raku pottery and work with multicolor glazes on white stoneware. My work is currently on display and for sale in the Glass Tipi Gallery located in Ward, Colorado.
My passion for being a ceramic artist is an endeavor I hope to continue for the rest of my life.