Dianne Hackett
Member Since 1969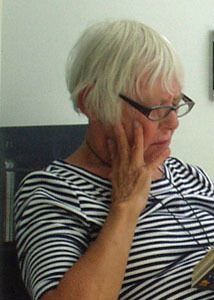 After graduation from the University of Colorado, Boulder, with a degree in Zoology, I worked as a research assistant at the University of California and Stanford medical schools and took my first pottery classes in night schools in San Francisco and Palo Alto. Returning to Boulder in 1960, I began classes at the City of Boulder Pottery Lab while working as a research assistant at the High Altitude Observatory, and later spending time raising 3 young children.
In 1969 the city limited the number of classes that one could take, and 9 other artists and I formed the Boulder Potter's Guild to continue working in clay. We started in the back of an old grocery store, moved to a larger space, which was leveled to become a parking lot for the new Crossroads shopping center, moved to a smaller affordable spot on North Broadway and then, built our wonderful final home on Sterling Circle. Through the years we have grown to about 75 members, hosted workshops by many world famous potters, held classes for the community and had semiannual sales.
I have continued growing and learning about the ceramics world. While I am primarily a functional potter, serving bowls and dishes being my main focus, I did spend most of the 1990s creating a series of imaginary artifacts, masks and related forms. This introduced me the world of sculpture shows. I learned how to cast in bronze, and I was proud to be included in the Sculpture in the Park show in Loveland for several years. I won an award at the North American Sculpture Show which included an invitation to show my work in Washington DC. Eventually I returned to functional pottery, and then four years ago I discovered the art of fusing glass. Now my main focus is learning more about this art form. My glass jewelry, plates and bowls are included in my display at the BPG sales. Through all the years I have also played with a line of big mouth clay frogs. I must have created hundreds, each with an individual expression.
The Guild has been an enriching part of my life, and I am proud to have been a part of its growth over the years.