Heather Kegel
Member Since 2017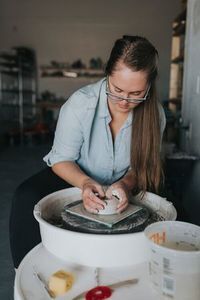 Heather graduated in June 2015 with a BFA in studio art from the University of Denver. After graduation, she slowly began assembling her own studio, purchasing a wheel and installing a kiln in her parent's sun-porch. As a regular studio practice emerged, she dedicated more and more time to her craft, continuously scaling back time at side jobs. In October 2017, Heather decided to work full time as a practicing artist. In January 2018, she moved into a new studio space in Boulder, Colorado. In addition to working as potter full time, she helps out two other local ceramic artists. Heather is a member of the Boulder Potter's Guild, and participates in all Guild shows and sales.
Heather is continuously inspired by our natural world, and strives to create a lingering sense of discovery through her work. Influenced by colors and patterns found in nature, she creates carefully crafted objects for the home, featuring both abstracted and stylized landscapes. Her work is meant for everyday use and enjoyment. Her hope is that it brings about a sense of calm, not unlike the feeling of a long walk in the woods or a day at the beach.
Heather has shown in a number of local and national galleries, including Plinth Gallery, Redline, Muse Gallery, Pottery Northwest, the Firehouse Art Center, Flower City Arts Center, Pirate: Contemporary Art, and Charlie Cummings Gallery. Heather's creative interests also include printmaking, natural dyeing and eco-printing fabric and fibers, hand-quilting, and painting.