Janet Nuzum
Member Since 1969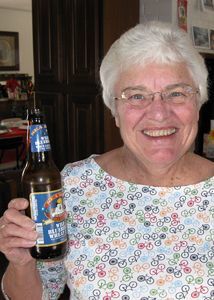 Pottery has been a part of my life for over 50 years. After taking classes at the City of Boulder Pottery Lab with Betty Woodman, at the Y in Boston and at Rhode Island School of Design in Providence, I was part of a group of about 10 people that started the Boulder Potters' Guild in 1969.
In years since, I have taken various classes, workshops and seminars designed to introduce me to all types of techniques. I have done high-fire, low-fire, raku, salt, and electric firings to make the many shapes and forms of clay pieces. These may be utilitarian or just sculptural for fun.
Today, I am interested in hand-building stylized clay houses out of rolled slabs of stoneware clay. The hand cut doors and windows are placed to allow light to come through and cast shadows. The houses are usually simple cubes or box shapes. They are all fired to cone 10 in a gas reduction kiln. These colorful glazed pieces can brighten up any space they occupy be it a window sill, shelf, desk or table.