Julie Neri
Member Since 2010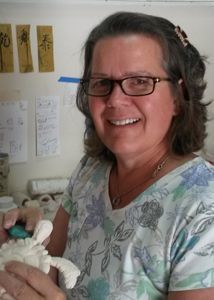 Creating pottery is therapy for me. The bonus is watching each piece be loved by someone else. After completing a Master of Public Administration, I took my first of many classes in pottery as respite. Twenty five years later, creating with clay is what fulfills my creative appetite.
I grew up on the water in Connecticut, with a father who built houses and a mother who created with yarn and cloth. My love of cycling and skiing brought me to Colorado as an adult. In clay, I am drawn to texture and find my roots coming through in my work. I am inspired by nature and by the patterns of repetition: the simplicity of a house, the design formed by bicycle gears, the delicate texture in a leaf, the rolling rocks in a rambling stone wall, and the ridges on a sea turtle's shell. Most of my work is hand-built, as it fits better into the snippets of free time that motherhood allows me. I work in my home studio in Longmont, Colorado, where I high fire my pottery to Cone 6 in an electric kiln.
I love being a member of the Boulder Potters' Guild as it allows me to be a part of a clay community, while finding purpose for my business and creative skills. I teach classes in Cone 6 to adults. You can find my work at the Boulder Potters' Guild Sales in May and November. Every June, I hold Julie's Imperfect Pottery Sale, which provides an opportunity for multiple potters to sell their slightly imperfect work to very excited customers. To learn about my home studio sales and other shows that I participate in, please email me or follow me on Instagram.