Juni Margrie
Member Since XXXX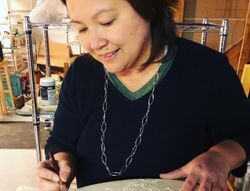 I was born in Malaysia and moved around South East Asia and the Netherlands before continuing my adventure to the United States. I currently reside in Louisville, CO with my family. 

My journey to ceramics was not a conventional one. I earned my Bachelor of Aerospace Engineering and later lectured at RMIT University in Melbourne, Australia. It wasn't until 2015 that I decided to take the plunge and enroll in a pottery class and truly fell in love with clay. Here was something that enabled me to work tactilely (which was a relief from the previous 'thinking', or rather, 'overthinking' I was doing) to create something beautiful yet functional that we incorporate in our daily routines. I learned a lot about the basic fundamentals of throwing, hand building and glazing from Lisa Bradley at the Clay Spot in Savannah, GA and would spend as many hours in her studio as possible. Since then I've made it a point to enroll in classes and workshops both in person and online several times a year so that I can continue to grow and develop as a ceramic artist.
I enjoy working with porcelain for it's strength and fineness. I like to challenge myself to make light and delicate functional pieces. Most of my pieces are wheel-thrown but I also enjoy hand building slab pieces. Probably because of my engineering background, my preference tends to be in making utilitarian pieces with good design principles. I like the idea of my pieces being used, handled, on a daily basis.
My inspiration comes from the strong memories I have as a child of my mother's green thumb - we had plants in every open spot inside and outside the home. I learned that plants and flowers bring joy and comfort and that's what I want to pass on to anyone who collects my pieces. Another vivid memory is the daily ritual of when my mother would boil the kettle and make a pot of tea or coffee along with some homemade snacks and serve them in beautiful English and Dutch porcelain pieces. We never kept our 'special' pieces in the cupboard - we used them every day. I think that's so wonderful! I love the idea of incorporating a little bit of luxury into our daily rituals.
My work can be found in the Denver Botanic Gardens gift shop and the Kirkland Museum of Fine and Decorative Art gift shop.
Exhibitions:
July 2022: Clay National XVI organized by the Carbondale Clay Center (juried by Diane Kenney)
April 2022: SIP A Ceramic Cup Show organized by the Savannah Clay Community
January 2022: Last Call VII - an annual survey of contemporary ceramic vessels exploring the storage & service of fine libations organized by Companion Gallery (juried by Tim Kowalcyk)
May 2021: SIP A Ceramic Cup Show organized by the Savannah Clay Community (juried by Renee LoPresti)
February 2021: Undercover - An exhibition of original ceramic butter dishes organized by Good Earth Pottery (juried by Nikki Mizak)
July 2020: Summer is Served: Plates online exhibition organized by Charlie Cummings Gallery April 2020: Function: Luncheon show organized by Good Earth Pottery (juried by Kip O'Krongly)
March 2020: SIP A Ceramic Cup Show organized by the Savannah Clay Community (juried by Jason Bige Burnett)
March 2019: SIP A Ceramic Cup Show organized by the Savannah Clay Community (juried by Liz Zlot Summerfield)
November 2018: FunctionFest at the Clay Center of New Orleans (juried by Kristen Keiffer)
February 2018: SIP A Ceramic Cup Show organized by the Savannah Clay Community (juried by Ben Carter)
Spring 2017: Designed and made a range of entrée dishes with Trang Vu and Louise Romero (both formerly from TJL Ceramics) for The Collins Quarter Bar & Restaurant, Savannah GA