Margaret Haydon
Member Since 2021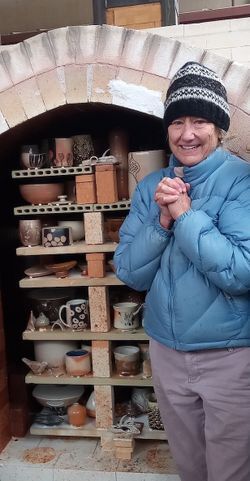 Margaret Haydon earned her MFA in ceramics in 1989 from San Francisco State University. She is currently Professor Emeritus of Ceramics at the University of Wyoming, where she taught from 2001 to 2021. Her work has been exhibited frequently around the country and internationally.
Working with images from the natural world, Haydon focuses on the idea of ongoing changes in habitat and species demographics. Haydon combines her aesthetic work with field-work, seeking opportunities to connect with naturalists. She has worked with fish biologists in the United States, Canada and Hungary.  In July 2013, Haydon gave a paper at the 7th International Symposium on Sturgeon held in Nanaimo, BC, Canada. Her work was also featured in Ancients Among Us, an exhibition installed in conjunction with the symposium. Haydon organized and curated an intimate group exhibition, "In the Company of Animals", which was installed in Kansas City at the Leopold Gallery during the 2016 50th anniversary NCECA conference. In 2019, Haydon's work was selected for a Wyoming Arts Council Fellowship Award. 
After retiring from the University in 2021, Haydon moved permanently back to Boulder, and re-joined the Boulder Potter's guild. She maintains a studio practice in Boulder and is currently exploring more utilitarian work.