Pamela Lambert
Member Since 2007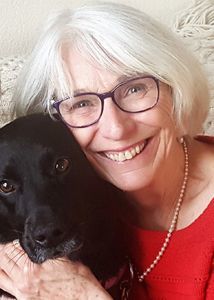 Clay came into my life in my fifties, as I was about to enter my fourth professional career. Having now sold and fully retired from that business, I see that working with my hands, and especially in the past two decades with clay, has been the thread that kept me whole through all my varied careers.
While art and nature illuminate for us the connection between earthly life and the spirit world, by creating art with my own hands I aspire to enliven matter with spirit, imbuing earth's simplest elements with light, color, whimsy and new form. To do this, I choose bright, bold colors on simple shapes, contrasting with line drawings of real or imagined plants and "critters??? on pure white backgrounds or pools of color. Are they opening a window into a world that I sense is there, dancing on the one leaf that stirs without a breeze, sheltering below the broad rhubarb leaf or waiting just beyond the next tree or hill, living in the morning mist or appearing as daylight turns to dusk and night falls? It has taken me years to find them and invite them onto the "canvas??? of a plate, a cup or a bowl.
My newest creations are mainly functional, made of mid-fire, snow-white porcelain and finished with a clear glaze over bright underglazes. I like to imagine the critters and the colors bringing joyful smiles to their users, brightening even the dullest day.