Rennie Moran
Member Since 1975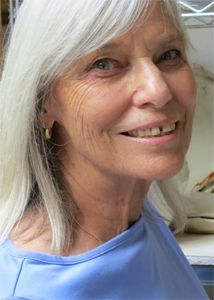 When my family and I arrived in Boulder in 1970, one of the first things I did was join the City of Boulder Pottery Lab, working with Betty Woodman as one of my first teachers. It was a celebration to be with the clay.
After joining the Potters Guild and primarily making functional pieces, life took a different turn and I became a Psychotherapist and teacher of the Diamond Approach, an international spiritual school, leaving the world of clay for many years.
Returning to the Potters Guild, has been a gift. I am now interested in functional ware and also enjoy hand building large vessels and exploring where the clay leads me.
I have always loved the feeling, smell, color and texture of clay, from the earth. That quality of aliveness is always in my awareness as I work with the clay. I strive to maintain that with my pieces, which is an on-going challenge and a deep desire of mine.