Robin Bryant
Member Since 2001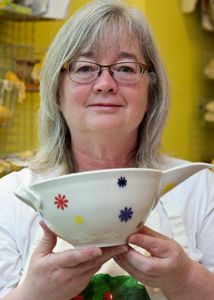 I have been working in clay since 1979. I am currently working with porcelain clay, firing in an electric kiln to cone 6. I add mason stains to achieve the vibrant colors. I love the delicate and exquisite feel of porcelain. All of my pieces are handmade, either on the wheel or by using slabs of clay, and are food, microwave, and oven safe.
My work is functional and I glaze simply with one or two colors on each piece. As someone who loves to cook, I often consider how the dish will be used and the food that will be served. I select glazes that I believe will complement the individual shape and purpose of the pot. I want my pieces to be enjoyed and used in everyday life.
Making pottery has served various purposes in my life that have fed both the creative and emotional parts of my life. It has provided an outlet for creativity, an opportunity to meet other creative people, and to be part of a community from which to learn, to share, and to be inspired.