Susan Gale Allman
Member Since 1977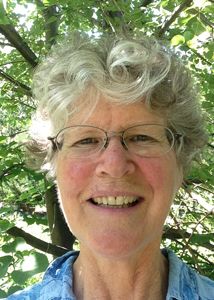 The Boulder Potters Guild and I met when I was a ceramics student at University of Colorado, Boulder, in the mid-1970s. I was a pyro who loved firing gas kilns so I began a long stint as the Guild's bisque apprentice. Work, marriage and having my family filled the next two decades. When I finally joined as a member it was to work on the capital campaign to raise the money for our current Guild building in the Spring of 1997.
My clay is whimsical and inspired by sculpting animals, birds, and people. My love of plants and gardening results in hand built planters. Current work varies from alphabet letter vases that hold one flower to outdoor pieces large enough for small trees. The natural beauty of the great American West inspires many a mug with a handle like the spouting geysers of Yellowstone or a planter with desert motifs from The Canyonlands.
At my house, I have a large studio and electric kiln where I teach young people to find and thrive in their creativity and develop a love of clay. During the school year I walk to our neighborhood school, Whittier Elementary, and a gaggle of creative future artists follow like a line of ducklings as we walk the few blocks to the studio. Laughter, moments with the muse, and treasures of childhood emerge in this small community of clay makers. Summer brings week-long camps with students as old as High Schoolers. This has been a regular happening for almost fifteen years. We collaborate together to create what their hearts desire in clay.
For me the combination of following my muse, the unending delight in mentoring and encouraging young artists, teaching, learning, keeping everyone's hands in wet clay has kept the joy of opening a fresh kiln strongly alive. Growing into my own clay artist self has kept the glazing, loading, and unloading decades of kilns worth every moment.
Beyond learning and growing with my students, I find myself mentored by other members of the guild. The guild is my community and my colleagues are lifelong friends. We come together for shows, firings, sales, teaching classes, doing workshops and just for the pleasure of each other's company. The guild and I have been in a wonderful lifelong partnership sharing the wonders of clay with the world.