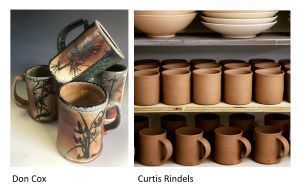 Registration opens 12/1/21 at 9:00am. Classes often fill very quickly, so set a reminder!
Class meets for 8 weeks
Starting date: January 12, 2022
Cost: $265
Instructors: Don Cox & Curtis Rindels
Level: Advanced Beginner and up
Prerequisite: Proficiency in throwing basic forms and some experience glazing
This class focuses on exploration of dinnerware and serving pieces. Don and Curtis will demonstrate their techniques for producing tableware, plates, bowls, cups, serving bowls, etc. Students will focus on skills and techniques used to produce a table setting of their own. Throwing skills will be emphasized along with some hand building techniques.
Effective October 2021, all members must be VACCINATED to enter the Guild. Students are strongly encouraged to be vaccinated.
In alignment with Boulder County guidelines, MASKS and SOCIAL DISTANCING ARE REQUIRED for all individuals entering the Guild facility regardless of vaccination status.
Before you register for a class, please review General Class Info and Tools + Supplies under Related Links, below.