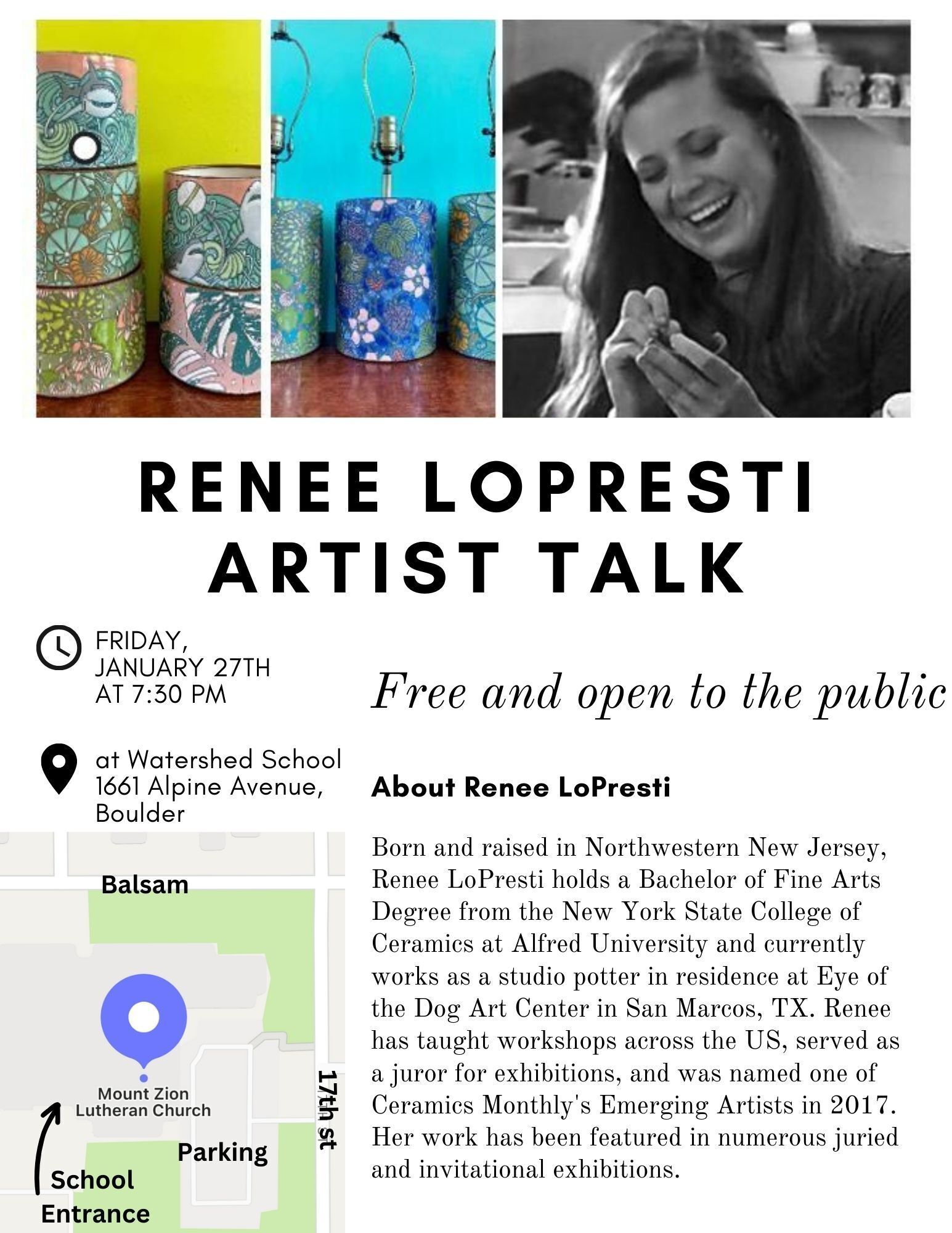 Membership Workshop Fee:
Guild Members $215
Non-Members $250
Workshop Description
In this two day workshop, we will focus on developing surface composition by layering underglazes and glaze directly onto leatherhard clay. Custom paper and reusable die-cut vinyl stencils will be used to create layered patterns, shapes, and detailed imagery. Students will be able to explore these techniques directly onto their own wheel-thrown or hand-built surfaces. The techniques and materials used during this workshop have the flexibility to be fired to any temperature/atmosphere.
Day One
We will begin by working through all of the decorating techniques on a leather hard slab. At the end of the first day, the decorated slabs will be pressed onto MDF drape molds, to transform the slabs into trays/plates.
Each participant can expect to complete 2-3 trays/plates on day one.
Day Two
Workshop participants will use the techniques learned on day one on the leather hard wheel thrown or handbill pieces they bring with them. Participants are encouraged to use the techniques in ways that speak to their individual voice as an artist.
Each participant can expect to complete 2-3 small pieces on day two.
By the end of the two day workshop, each participant can expect to bring 4-6 decorated pieces home with them.
---
Born and raised in Northwestern New Jersey, Renee LoPresti holds a Bachelor of Fine Arts Degree from the New York State College of Ceramics at Alfred University and currently works as a studio potter in residence at Eye of the Dog Art Center in San Marcos, TX. Renee has taught workshops across the US, served as a juror for exhibitions, and was named one of Ceramics Monthly's Emerging Artists in 2017. Her work has been featured in numerous juried and invitational exhibitions.
----
Renee will be hosting a talk on FRIDAY night before the weekend workshop. This event will be FREE and OPEN TO THE PUBLIC!
Friday, January 27th at 7:30PM at Watershed School
1661 Alpine Avenue
Boulder, Colorado
The building is shared with Mt. Zion Lutheran Church. Attendees should park in the east lot of the building via 17th Street, then come to the front entrance of Watershed School.