All Levels Cone 10 Reduction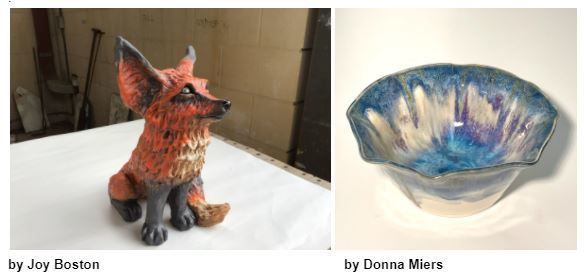 Class meets for 8 weeks
Starting date: August 25
Cost $265
Instructors: Joy Boston and Donna Miers
UPDATE 8/16: In alignment with Boulder County guidelines, MASKS ARE REQUIRED for all individuals entering the Guild facility, regardless of vaccination status.
Registration opens 8/1/21 at 9:00am
Classes often fill VERY quickly, so set a reminder!
Come ready to be creative. Create individual works of art as your class instructors provide guidance and instruction. This class is for students with every level of skill. Students will explore many facets of clay including wheel-thrown pieces, hand-built pieces and sculptures. We'll be using cone 10 (high fire) clay and glazes. Come create, play, communicate and explore with us! If you want…bring an idea or photo to the first class of something you want to create… and let your creativity flow.
Students who are not fully vaccinated are required to wear a mask.
Before you register for a class, please review General Class Info and Tools + Supplies (under Related Links.)