Intermediate / Advanced Cone 10 Reduction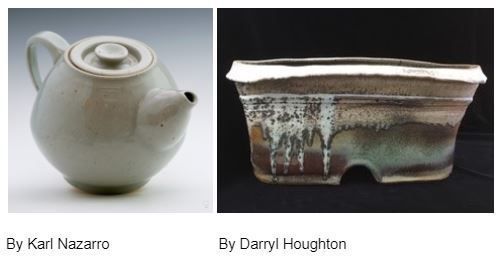 Class meets for 8 weeks
Starting date: August 26
Cost: $265
Instructors: Darryl Houghton and Karl Nazarro
UPDATE 8/16: In alignment with Boulder County guidelines, MASKS ARE REQUIRED for all individuals entering the Guild facility, regardless of vaccination status.
Registration opens 8/1/21 at 9:00am
Classes often fill VERY quickly, so set a reminder!
For those who have at least a basic proficiency in throwing on the wheel, this class is designed to refine those skills and introduce new techniques through the entire process. Be prepared in the first class to demonstrate your facility to center and throw. If you have not thrown for a year or so, you are welcome to join the class. Through individual instruction and group demos, the regaining of skills will come naturally for most students. The class syllabus will be tailored to meet the wishes and needs of the students. The primary focus will be on the potter's wheel; however, if there is interest, some hand-building techniques will also be introduced. Creativity, experimentation and open-ended exploration is encouraged. The class is an opportunity to explore the world of ceramics in more depth. There will be a cone 10 gas firing at the conclusion of the class.
Students who are not fully vaccinated are required to wear a mask.
Before you register for a class, please review General Class Info and Tools + Supplies (under Related Links.)