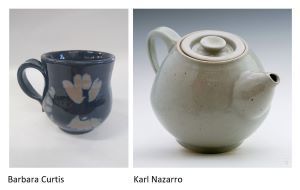 Registration opens 12/1/21 at 9:00am. Classes often fill very quickly, so set a reminder!
Class meets for 8 weeks
Starting date: January 11
Cost: $265
Instructors: Barbara Curtis & Karl Nazarro
Level: All levels
Prerequisite: No previous experience is required.
This is an all-levels class with emphasis on wheel-throwing different forms. Beginners can expect basic understanding of working with clay from wedging to centering and creating beginning forms such as cylinders and bowls. Intermediate and advanced potters will be asked to establish a goal in-mind as to what they want to create by the end of the 8-week session. Hand-building will also be explored and encouraged. The loose "syllabus" is created at our first meeting after these goals are evaluated.
Effective October 2021, all members must be VACCINATED to enter the Guild. Students are strongly encouraged to be vaccinated.
In alignment with Boulder County guidelines, MASKS and SOCIAL DISTANCING ARE REQUIRED for all individuals entering the Guild facility regardless of vaccination status.
Before you register for a class, please review General Class Info and Tools + Supplies under Related Links, below.