Beginner / Intermediate Cone 10 Reduction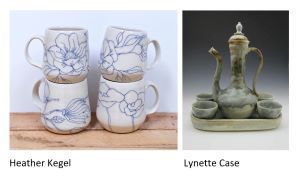 Registration opens 12/1/21 at 9:00am. Classes often fill very quickly, so set a reminder!
Class meets for 8 weeks
Starting date: January 13, 2022
Cost: $265
Instructors: Heather Kegel and Lynette Case
Level: Beginner and Intermediate
Prerequisite: No previous experience is required.
This 3-hour evening class includes a basic introduction and a continuation of building your wheel throwing skills. The course covers clay studio basics and is intended as an introduction to the clay cycle process of "clay to fire." Students learn the skill of centering and evenly distributing clay to make cups, bowls and plates, as well as the application of handles. The course also includes instruction in glazing techniques. No previous experience is required. This class is a good option for those with previous experience to refresh their basic skills. Basic concepts such as how to use studio equipment, clay preparation, simple wheel-throwing techniques, and glazing and decoration processes will be demonstrated. Simple hand-building techniques are also introduced to give participants other options for creating pottery items.
Effective October 2021, all members must be VACCINATED to enter the Guild. Students are strongly encouraged to be vaccinated.
In alignment with Boulder County guidelines, MASKS and SOCIAL DISTANCING ARE REQUIRED for all individuals entering the Guild facility regardless of vaccination status.
Before you register for a class, please review General Class Info and Tools + Supplies under Related Links, below.